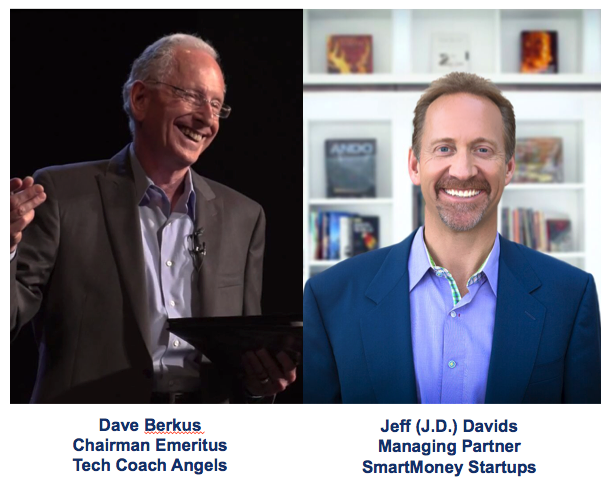 Dave Berkus has invested in 161 Angel Investments and earned an IRR of 101%. One of his unique strategies is helping his portfolio companies push through the "Valley of Death", the gap between Angel Financing and Venture Capital investment. Not only has Dave invested in 161 startup companies, he has invested in follow-on rounds of funding for 92% of those companies. Why does he do this?
Because Dave has been around long enough to understand the same thing that VCs do: When you are the deepest pocket at the table, be wise enough to keep a "Capital Reserve". This short video explains how to survive the Valley of Death for startup companies that you are involved with:
A Capital Reserve is simple: If I'm writing a check to invest in a startup, the one thing I know for sure is that they are going to miss the revenue forecast over the next 12-18 months. Not because they are dishonest, but because in the startup world, new information comes to light all of the time that will impact achievement of revenue targets. The question is not "Will they hit the revenue forecast?" – we already know the answer that that question. A better question to ask is "By how much", meaning – how far off are they going to be? 5-10% miss? 50% off? 75% off? The answer to that question will tell you how much more time and money the company will need to survive the Valley of Death.
I have spent 26 years on the management teams of startup companies, and forecasting revenue is not an exact science. The smartest investors in the world factor this into their portfolio planning.
If I write a check for $1,000,000 and I'm the deepest pocket at the table, I can predict that the company is going to come back to me at some point and say "it's going to take us more time and more money than we anticipated." We've seen this movie before – many, many times.
So wisdom tells us that to set aside a "reserve" amount of capital to bridge the company to the milestone achievements needed to get Venture Capital investment into the company. At this point, the Angel Investor is no longer the deepest pocket at the table.
And the cycle continues – nearly all venture capitalists create a "Capital Reserve" for every company that they invest in. Because they know that if they don't, there is a high probability that the company may run out of cash before they hit the milestones needed for the next round of investment.
VCs do this all the time, but they don't talk about it that much, for obvious reasons. If I told you that I'm writing you a check for $5,000,000 now, and I know you're going to make mistakes, so I've got another $2,500,000 set aside to bail you out, then you will mentally note that you actually have $7,500,000 to work with. That's not wise for anyone – it works against the notion of accountability to the revenue forecast and budget that you pitched.
Dave Berkus Bio:
Dave Berkus is a legend in the world of entrepreneurship and early-stage investing. He's been described by Inc Magazine as a super angel investor and he definitely is. As an entrepreneur, Dave started his first business at the age of 15 years old. He grew that to 50 employees and did an IPO and a sale of the company. Then he founded a software company and he went out and got 16% global market share for hotel automation systems and grew into an INC 500 fastest growing company twice.
As an investor, Dave's personally made well over 162 investments in early stage technology companies. And he's produced a whopping 101% IRR.
He is chairman emeritus of the Tech Coast Angels (TCA). He serves as managing partner of two different private equity funds. He also manages the ACE Investment funds and they've had quite a track record with those funds alongside Tech Coast Angels. He is Co-Managing Partner for Wayfare Ventures, LLC.
He has a strong track record in operations, venture investing and has served on the boards of over 40 public companies. He has been named as Director of the Year both public and private companies.
He has formed, managed, and sold businesses in entertainment, software, he's gotten excellent liquid returns. He currently acts as a CEO coach, an advisory board member to a number of different technology companies.
He also was on an Orange County based Forum for Corporate Directors, was corporate of the year, technology leader of the year by the Los Angeles County Board of Supervisors.
Dave has co-authored or authored 15 books, the most recent of which is "StreetSavvy Business by David Friedman.  Berkus Press has published 15 books since 2009, often co-authored by other well-known personalities in the business world or early stage investment community.  He's made over 161 investments in early stage companies and the list goes on and on. He's a trustee at Occidental College. He's currently Vice-Chair of the board, keynote speaker, speaking events. He's widely respected in the world of startups, Angel Investing, Venture Capital and professional Board Associations.
To learn more about Dave Berkus, he has a blog and many books available for entrepreneurs and investors to learn more at:
www.Berkus.com

SmartMoney Startups helps investors and entrepreneurs successfully navigate the Valley of Death.  J.D. Davids and his team on are on a mission is to help 10,000 entrepreneurs over the next 10 years by guiding them along their journey from idea to exit and beyond with a combination of education, coaching and CEO peer group Mastermind Sessions.
Learn more here.