Ah, startup valuation. It's a top-of-mind topic for entrepreneurs who own startups, and often a sticking point in the fundraising process. After all, valuation of startup businesses is as much art as it is science.
Valuation, of course, is putting a dollar (or Euro, etc.) value on a business. That's easy to do for larger, publicly traded firms. Simply multiple the current share price by the number of outstanding shares.
But what about early-stage startups? How do investors value them?
Understanding Startup Valuation
Take a moment and watch as I discuss the issue of startup valuation with Jeremey Glaser of Mintz Levin.
As Jeremy says early in the video, "The reason a venture capitalist asks early on what the valuation is…they want to know whether they should say no."
And therein lies the problem for most entrepreneurs. Naturally, after working so hard to turn a concept…a dream, into a real business that is growing, a CEO will value that business at a higher level than anyone else. She or he did all the work to get the business to a level of success and also sees its potential. So it's natural that she or he sets the valuation high when starting the fundraising process.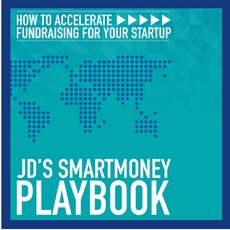 I describe how to find the right investors in the SmartMoney Playbook. It's free, and you can grab it here.
We see this happen all the time on the hit television show, Shark Tank. I've never seen one of the sharks comment that the entrepreneur has valued the business too low. Rather, they often point out, correctly, that the valuation is not worth what the CEO claims. That leads the sharks to quip, "I'm out."
So, there is a real risk in setting the initial valuation too high. The risk is that the venture capitalist may turn away without even hearing your story, leaving you without an investment. That defeats the purpose of your roadshow.
Why the disconnect between entrepreneurs and investors?
And the "sharks" are definitely SmartMoney investors.
Determining startup valuation

I said that startup valuation is more art than science, didn't I. But that's not particularly helpful if you're trying to assign a valuation range to your startup.
Over at Funders and Founders, Anna Vital created a helpful infographic on how startup valuation works. Click on the infographic for a larger view.
This visual aid is useful in understanding all the factors that go into valuation, other than "market timing." And market timing is no small issue. Many of us remember the valuations of the late '90s, when you simply had to add .com to any phrase to raise millions.
The opposite was true just a few years later. But, while market timing is a factor, the truth is that it's the business fundamentals and comparables that matter most.
The value that's right for your business will be based on many factors. Factors such as what stage you're at, market size and potential, status of your product development/revenue/profits, caliber/experience of your management team, growth rate and more.
If others in your "space" have raised money, take a close look at how they were valued. Your investors will, just as realtors and appraisers look at "neighborhood comps" when setting values for homes.
Regardless of what you arrive at for your valuation, be prepared to explain how you arrived at that. It can be fine to have a big number valuation, because "big number" isn't the same as a high (overpriced) valuation.
A big number can be justified by the potential for a big exit. Just ask the founders of Instagram or Dropbox, although it's interesting to note that Dropbox founder, Drew Houston, reportedly sold 5% of Dropbox to Y-Combinator for less than $20,000.
And that lets us end on an insightful point. It's often better to raise what you need to get started from the right investors rather than fighting over startup valuation.
To find the right investors for your business, get started on a target list of SmartMoney investors. You can trace the success of Dropbox, Instagram and pretty much any other "unicorn" to taking that same approach.
How would you approach startup valuation?
Join Us in a 30-Day Sprint for SmartMoney.
Our sprint program kicks off October 3, 2017 and is reserved for those who are poised and ready to take action to accelerate their path to funding. Sign up here to get on our wait list.