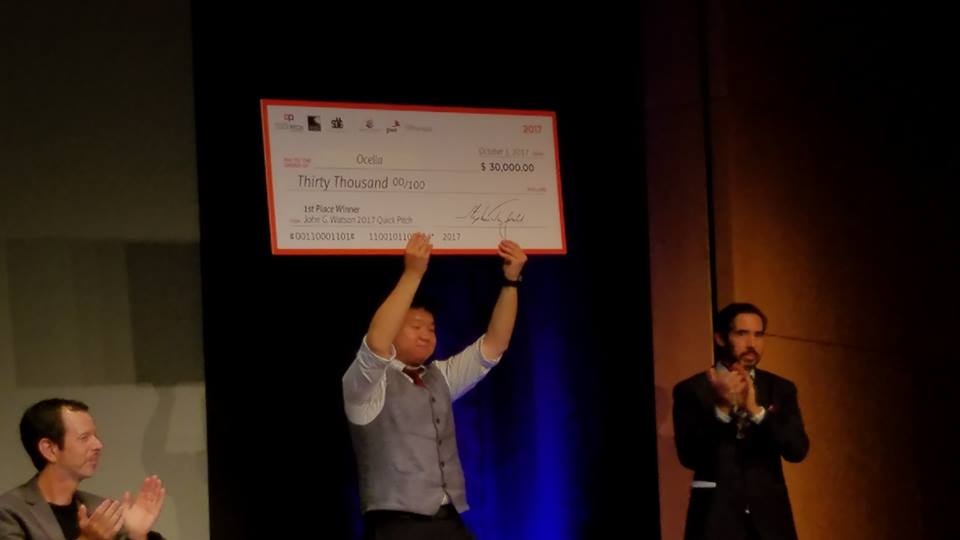 Over 500 people attended the John G. Watson QuickPitch Event and based on an audience vote, Top Honors were awarded to Ocella, EcoCube by Aqua Design Innovations and Trust & Will.  Winners were awarded checks for $30,000, 15,000 and 5,000 respectively.  In addition, SmartMoney Startups generously donated scholarships for $1,000 to their Fundraising Sprint Program.  
"We are honored to support this event and these top-notch entrepreneurs to help them accelerate their fundraising process and match them with high-quality investors that bring much more than just cash to the table" said Jeff (J.D.) Davids, Managing Partner of SmartMoney Startups.
Ten companies each gave a 2-minute pitch and answered questions from a distinguished panel of judges and the winners were selected by a live audience vote on their mobile phones.  This was the first of its kind event as a collaboration between TCA and SDVG, and drew an audience of over 500 attendees at Qualcomm Hall on Oct 5, 2017.  
Ocella took top honors and received a check for $30,000 to advance its technology that creates stretchable and wearable batteries using an innovative polymer ink product.  Aqua Design Innovations won second place and a check for $15,000 for its innovative EcoQube Aquarium and Air Frame to grow hydroponic micro-veggies while simultaneously cleaning your fish aquarium and cleansing your indoor air.  Trust & Will won third place and received $5,000 for its easy-to-use software to help over 90 million US adults that don't have a will, a trust, or a documented healthcare directive.  
Attendees also got a taste of things to come from the powerful convergence of augmented reality and Hollywood storytelling:
Academy Award-winning Director and Carlsbad resident Robert Stromberg gave a fascinating live demo of his breakthrough augmented reality virtual pet app called "Follow Me Dragon".  Released in September, Follow Me Dragon is already the highest paid app in the Apple store entertainment category and has attracted over $35M in venture funding to Robert's "Virtual Reality Company" from Stephen Spielberg, Rothenberg Ventures, Elementum Ventures, Hengxsin Mobile, and Metallica lead singer James Hetfield.  
Robert's foray into the AR world expands on his already impressive accomplishments including the global box office record for highest grossing, first time Director in film history for Disney's Maleficent.  He has been awarded 5 Emmys and 2 Oscars for Avatar and Alice in Wonderland, as well as Production Design and visual effects on over 100 films including Avatar, Life of Pi, Master and Commander, Pirates of the Caribbean, Star Trek, Memoirs of a Geisha, The Golden Compass, Game of Thrones and many others.  
San Diego's startup ecosystem continues to produce high quality, investment grade companies and the progress and sophistication of this group of 10 carefully screened and coached companies reflects the hard work of many leaders in the local entrepreneurial ecosystem.  Tech Coast Angels has invested $193 Million into 332 companies and produced a return on investment of 3.3X.  SDVG's Cool Companies from 2016 alone have already raised $115M, attracted over 150 VCs to San Diego this year and facilitated over 60 company presentations to investors outside the areas as well.  
SmartMoney Startups is pleased to provide Fundraising Campaign Programs as part of a comprehensive curriculum of programs and coaching designed to help entrepreneurs and their investors optimize ROI on investment.  Leveraging best practices and helping startups avoid common mistakes is a core foundation of the SmartMoney Startups programs offered.  
Two of the 3 winners got their start in entrepreneurship at UC San Diego.  Briana Weisinger oversees the efforts of 9 separate incubator programs at UCSD and she commented:  "I'm very proud to see UC San Diego affiliated companies well represented again this year at the Quick Pitch. Over the past several years, we've seen continued increases in the success of UC San Diego affiliated companies both in competitions and as recipients of innovation awards. This trend mirrors the growth in support and opportunities across campus for founders and startup companies so I'm looking forward for more great things to come!"
Congratulations to the winners of Quick Pitch 2017 and thank you to all of the sponsors, supporters, and volunteers who made this event possible! To learn more about SmartMoney Startups, visit their website at www.SmartMoneyStartups.com.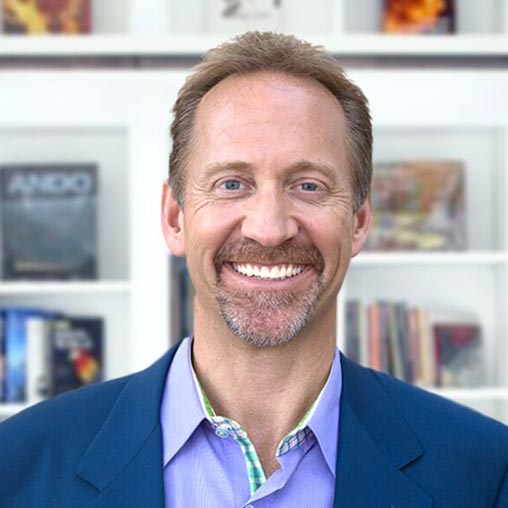 Jeff (J.D.) Davids
Managing Partner
SmartMoney Startups.com
www.SmartMoneyStartups.com